Magnetic water treatment systems powerful neodymium magnets to purify water
Hardness in water is a result of dissolved minerals, usually calcium with components of magnesium, iron and others.
Unlike other softeners, magnetic softeners do not remove or replace these minerals, but are sometimes reported to reduce the scaling effect of hard water.
Magnetic softeners are relatively cheap and easy to install and have not been proved to be harmful.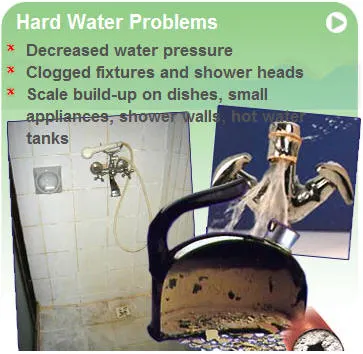 What is a magnetic water treatment device?
Typically, these devices are permanent magnets or electromagnets that attach to waterlines entering homes and businesses to "purify" or "condition" water supplies. Manufacturers adopt a variety of commercial names for their products from the complex-"patented directional controlled magnet," "Perm-core," and "Magnetizer"-to the simple- "metal bar" or "plug-in treatment device." Typically, the devices purportedly use electromagnetic fields to change the molecular makeup of various water constituents like calcium and iron to other more "inert" forms. The claimed result is a reduction or elimination of water contaminants. One manufacturer describes the magnetic treatment processes this way, "Water and minerals are subjected to violent intramolecular vibrations and shock at the same time magnetic energy is being added, the mineral's crystallization is upset and cohesion broken." Sales representatives often persuade potential customers that they can rely on magnetic treatment devices to provide lifetime, energy-free home water treatment.
Features and Benefits
Clean and remove the scale and rust from the internal surface of pipe.
No need people to maintenance equipment.
Improve heat change system rate (save energy about 15%-30%)
No need power, long life
There will be produced Hydrogen peroxide which can reduce the quantity of bacterial in treatment process.
No chemistry, no pollution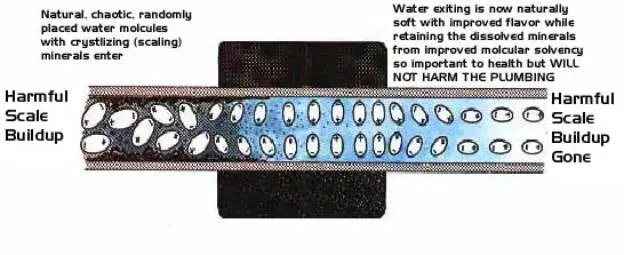 Working principle
On use of potential energy which generates from neodymium iron boron permanent magnetic material, and optimal design, forming a crest vertical center field. When water or fluid flow through the vertical magnetic field, will produce an electromotive force, The lattice refinement, The original water fouling crystal particle size from about 3.39 microns to about 0.22 microns, flow rate will be faster, The electromotive force generated greater, The effect is more ideal, To achieve the anti-scaling, scale removal purpose.
Meanwhile, water treated by magnetic field, the electrical conductivity and osmotic pressure changed and microbial cell ruptured, cells stop breeding, which achieve effect of sterilization, and algae removal.
Since the water treated by magnetic field, it will produce tiny electron flow, which change Fe2O3 · NH2O into stable Fe3O4 and generates black magnetic iron oxide which deposited onto the tube wall surface to form a film barrier layer, the oxygen in the water separated from the pipe wall, in this case, it realize the purpose of removal and prevention of rust.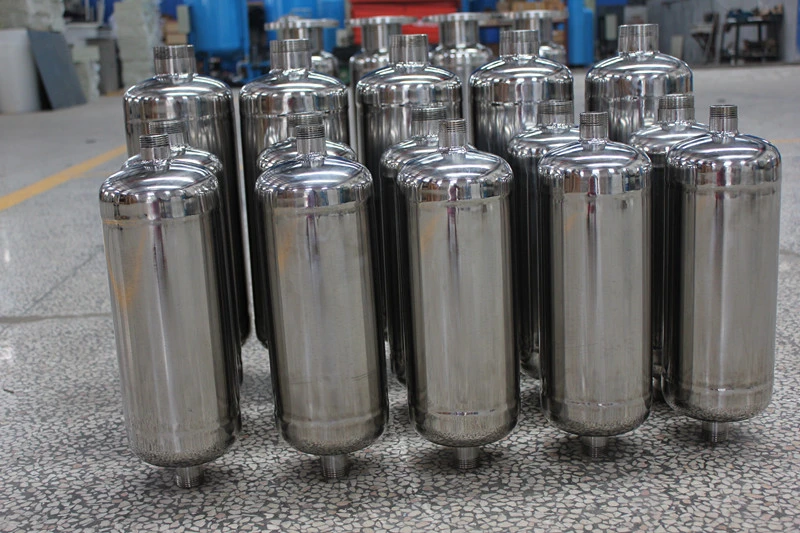 III. Scope of application
Central air condition cooling system
Landscape and travel pool system
Heat change system
Produce and living water system
Industry recycling cooling water system
Technical parameters:
model
inlet and outlet
dimension(mm)
flow rate
Vertical center
Working medium
weight
mm
inch
diameter*length
m 3 /h
strong magnetism (mt)
temperature
( . C)
Kg
YLC-1
25
1
108×330
4.9
160
0-90
10
YLC-1.5
40
1.5
108×330
12
160
0-90
20
YLC-2
50
2
159×450
19
160
0-90
30
YLC-2.5
65
2.5
159×450
28
160
0-90
40
YLC-3
80
3
159×450
50
160
0-90
45
YLC-4
100
4
219×560
80
160
0-90
50
YLC-5
125
5
219×600
125
160
0-90
60
YLC-6
150
6
273×740
180
160
0-90
70
YLC-8
200
8
325×790
320
160
0-90
90
YLC-10
250
10
377×850
480
160
0-90
110
YLC-12
300
12
426×800
600
160
0-90
130
YLC-14
350
14
478×950
750
160
0-90
160
YLC-16
400
16
530×1000
850
160
0-90
210
YLC-18
450
18
630×1050
950
160
0-90
260
YLC-20
500
20
720×1100
1100
160
0-90
330