Product Name: Grade N50M NdFeB magnets, Neodymium iron boron magnets
Materials Trademark:
N35-N50, 33M-48M, 30H-45H, 27SH-45SH, 25UH-40UH, 23EH-38EH
All Trademarks are available.
Working Temperature: 80-200(° C)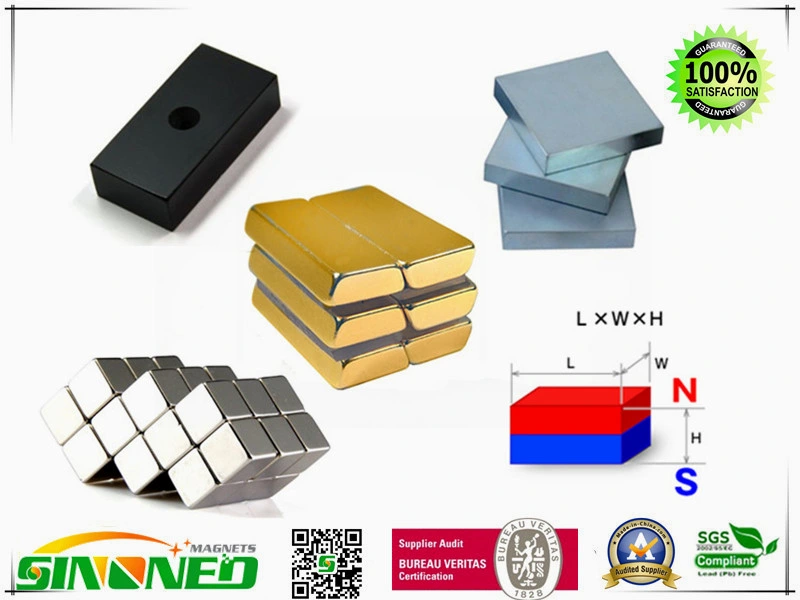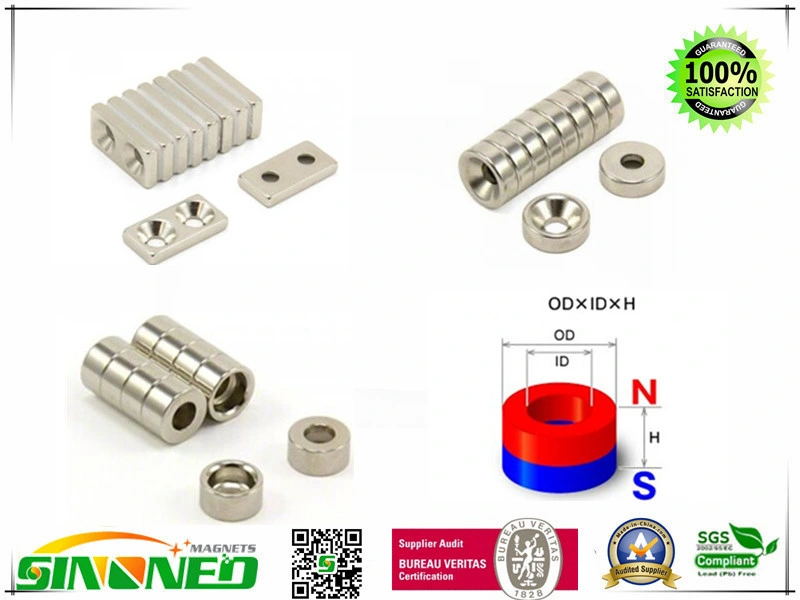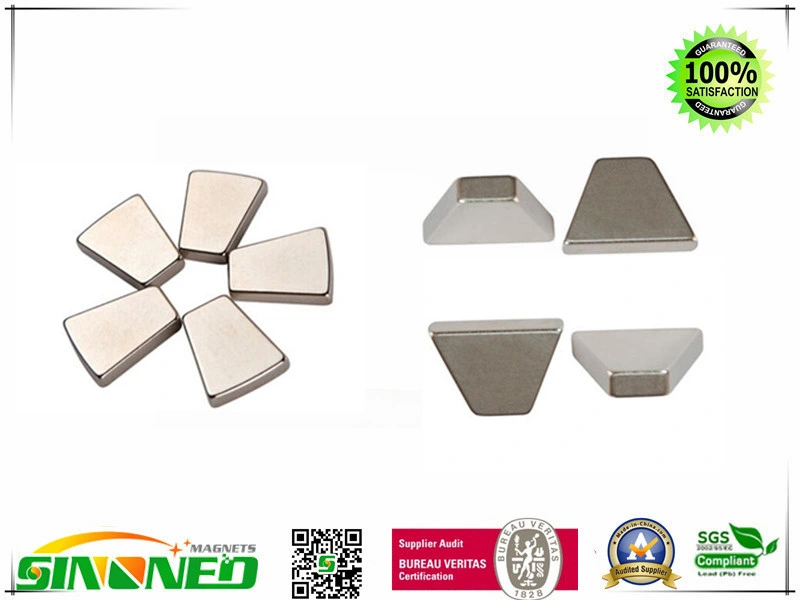 Product Feature:
Produced by the powder metallurgical method with chemical composition of ND2Fe14B
Very brittle and hard
Poorest corrosion resistance of all commercial magnetic material
High resistance to magnetic demagnetization
Excellent cost to performance ratio
Reasonable temperature stability
Not suitable for application which exposed to high temperatures
NdFeB permanent magnet is mainly used in Micro-motor, Electronic Industry, Car Industry, Petrochemical, NMR devices, Sound equipments, Maglev System, Magnetic drive and Magnetotherapy system, and its also used in Motorbikes, Car oil-duct's magnetization, with the aim of saving oil.
Earth permanent magnet (NdFeB) has the strongest magnetism nowadays. It does not only has high remanence, high coercivity, high energy product, and high-functional, but also it can processed into a variety of sizes easily. Now, it is widely used in avigation, spaceflight, electron, electrical sound, electrical machinery, apparatus, meters, medical technology, and especially apply to develop high-performance, small and light replacements.
Our factory produce and manufacture magnets according to customer's design on shape, dimension, grades, coatings etc.
To offer you our magnets price, please offer the following details:
Magnets grade: From N35 To N50, from N Series to UH Series.
Magnets size: As the drawing
Magnetism direction: Which direction to oriented The north pole and south pole
Magnets coating: Nickel, Zn, Black Epoxy, AG, Au etc.
Quantities: More mass order quantities. More Lower the prices. Original factory.
Grade
Remanence
Coercivity Force
Intrinsic Coercive Force
Max. Energy Product
maximum Operating Temp.
Br
Hcb
Hcj
£ ¨ BH £ © max
mT
kGs
kA/m
kOe
kA/m
kOe
kJ/m3
MGOe
N27
1030-1080
10.3-10.8
≥ 796
≥ 10.0
≥ 955
≥ 12
199-231
25-29
80 ° C
N30
1080-1130
10.8-11.3
≥ 796
≥ 10.0
≥ 955
≥ 12
223-247
28-31
80 ° C
N33
1130-1170
11.3-11.7
≥ 836
≥ 10.5
≥ 955
≥ 12
247-271
31-34
80 ° C
N35
1170-1220
11.7-12.2
≥ 868
≥ 10.9
≥ 955
≥ 12
263-287
33-36
80 ° C
N38
1220-1250
12.2-12.5
≥ 899
≥ 11.3
≥ 955
≥ 12
287-310
36-39
80 ° C
N40
1250-1280
12.5-12.8
≥ 907
≥ 11.4
≥ 955
≥ 12
302-326
38-41
80 ° C
N42
1280-1320
12.8-13.2
≥ 915
≥ 11.5
≥ 955
≥ 12
318-342
40-43
80 ° C
N45
1320-1380
13.2-13.8
≥ 923
≥ 11.6
≥ 955
≥ 12
342-366
43-46
80 ° C
N48
1380-1420
13.8-14.2
≥ 923
≥ 11.6
≥ 876
≥ 12
366-390
46-49
80 ° C
N50
1400-1450
14.0-14.5
≥ 796
≥ 10.0
≥ 876
≥ 11
382-406
48-51
60 ° C
N52
1430-1480
14.3-14.8
≥ 796
≥ 10.0
≥ 876
≥ 11
398-422
50-53
60 ° C
30M
1080-1130
10.8-11.3
≥ 796
≥ 10.0
≥ 1114
≥ 14
223-247
28-31
100 ° C
33M
1130-1170
11.3-11.7
≥ 836
≥ 10.5
≥ 1114
≥ 14
247-263
31-33
100 ° C
35M
1170-1220
11.7-12.2
≥ 868
≥ 10.9
≥ 1114
≥ 14
263-287
33-36
100 ° C
38M
1220-1250
12.2-12.5
≥ 899
≥ 11.3
≥ 1114
≥ 14
287-310
36-39
100 ° C
40M
1250-1280
12.5-12.8
≥ 923
≥ 11.6
≥ 1114
≥ 14
302-326
38-41
100 ° C
42M
1280-1320
12.8-13.2
≥ 955
≥ 12.0
≥ 1114
≥ 14
318-342
40-43
100 ° C
45M
1320-1380
13.2-13.8
≥ 995
≥ 12.5
≥ 1114
≥ 14
342-366
43-46
100 ° C
48M
1360-1430
13.6-14.3
≥ 1027
≥ 12.9
≥ 1114
≥ 14
366-390
46-49
100 ° C
50M
1400-1450
14.0-14.5
≥ 1033
≥ 13.0
≥ 1114
≥ 14
382-406
48-51
100 ° C
30H
1080-1130
10.8-11.3
≥ 796
≥ 10.0
≥ 1353
≥ 17
223-247
28-31
120 ° C
33H
1130-1170
11.3-11.7
≥ 836
≥ 10.5
≥ 1353
≥ 17
247-271
31-34
120 ° C
35H
1170-1220
11.7-12.2
≥ 868
≥ 10.9
≥ 1353
≥ 17
263-287
33-36
120 ° C
38H
1220-1250
12.2-12.5
≥ 899
≥ 11.3
≥ 1353
≥ 17
287-310
36-39
120 ° C
40H
1250-1280
12.5-12.8
≥ 923
≥ 11.6
≥ 1353
≥ 17
302-326
38-41
120 ° C
42H
1280-1320
12.8-13.2
≥ 955
≥ 12.0
≥ 1353
≥ 17
318-342
40-43
120 ° C
45H
1300-1360
13-13.6
≥ 963
≥ 12.1
≥ 1353
≥ 17
326-358
43-46
120 ° C
48H
1370-1430
13.7-14.3
≥ 995
≥ 12.5
≥ 1353
≥ 17
366-390
46-49
120 ° C
30SH
1080-1130
10.8-11.3
≥ 804
≥ 10.1
≥ 1592
≥ 20
223-247
28-31
150 ° C
33SH
1130-1170
11.3-11.7
≥ 844
≥ 10.6
≥ 1592
≥ 20
247-271
31-34
150 ° C
35SH
1170-1220
11.7-12.2
≥ 876
≥ 11.0
≥ 1592
≥ 20
263-287
33-36
150 ° C
38SH
1220-1250
12.2-12.5
≥ 907
≥ 11.4
≥ 1592
≥ 20
287-310
36-39
150 ° C
40SH
1240-1280
12.5-12.8
≥ 939
≥ 11.8
≥ 1592
≥ 20
302-326
38-41
150 ° C
42SH
1280-1320
12.8-13.2
≥ 987
≥ 12.4
≥ 1592
≥ 20
318-342
40-43
150 ° C
45SH
1320-1380
13.2-13.8
≥ 1003
≥ 12.6
≥ 1592
≥ 20
342-366
43-46
150 ° C
28UH
1020-1080
10.2-10.8
≥ 764
≥ 9.6
≥ 1990
≥ 25
207-231
26-29
180 ° C
30UH
1080-1130
10.8-11.3
≥ 812
≥ 10.2
≥ 1990
≥ 25
223-247
28-31
180 ° C
33UH
1130-1170
11.3-11.7
≥ 852
≥ 10.7
≥ 1990
≥ 25
247-271
31-34
180 ° C
35UH
1180-1220
11.8-12.2
≥ 860
≥ 10.8
≥ 1990
≥ 25
263-287
33-36
180 ° C
38UH
1220-1250
12.2-12.5
≥ 876
≥ 11.0
≥ 1990
≥ 25
287-310
36-39
180 ° C
40UH
1240-1280
12.5-12.8
≥ 899
≥ 11.3
≥ 1990
≥ 25
302-326
38-41
180 ° C
28EH
1040-1090
10.4-10.9
≥ 780
≥ 9.8
≥ 2388
≥ 30
207-231
26-29
200 ° C
30EH
1080-1130
10.8-11.3
≥ 812
≥ 10.2
≥ 2388
≥ 30
223-247
28-31
200 ° C
33EH
1130-1170
11.3-11.7
≥ 836
≥ 10.5
≥ 2388
≥ 30
247-271
31-34
200 ° C
35EH
1170-1220
11.7-12.2
≥ 876
≥ 11.0
≥ 2388
≥ 30
263-287
33-36
200 ° C
38EH
1220-1250
12.2-12.5
≥ 899
≥ 11.3
≥ 2388
≥ 30
287-310
36-39
200 ° C